In the summer of 2009, the city of Saint-Bruno-de-Montarville contacted Créations Jean Pronovost to create a gigantic external mural of 70 by 20 feet. This extravagant project was realized on the Montreal Bank of St-Bruno. It was acclaimed by the population during its inauguration on august 31st 2009. The art of the mural brought an important asset for culture and an innovating beauty to the city.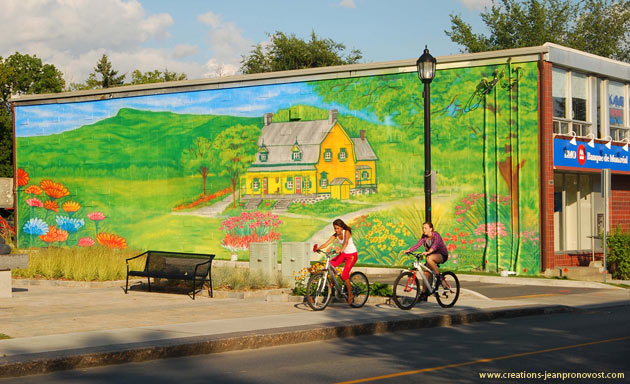 Here we see the finished external mural. The painting, filled with vivid and warm colors, representing summertime is guaranteed for 5 years against bad weather. In fact, Créations Jean Pronovost used the best materials and techniques to execute this grand project from the preparation of the surface to the final varnishing. The mural is a reproduction of an oil painting by Mme Godbout. She won the contest resulting in the reproduction as an external mural.
Here is the recommendation letter written by the district chief of culture and community life of Saint-Bruno-de-Montarville.
Mr Jean Pronovost
Les CRÉATIONS JEAN PRONOVOSTMr.The City of Saint-Bruno-de-Montarville requested your service for the execution of a 70 by 20 feet mural during the summer of 2009.  We wish to advise you of our profound satisfaction toward your work as well as our thanks.  You and your team demonstrated an exceptional professionalism in spite of the numerous obstacles facing the realization of the mural.Your competences, remarkable artistic qualities, patience and diligence with which you executed the mural make you an unparalleled muralist.  We warmly recommend your services to whoever wished to acquire a mural.For any other reference, please communicate with me.

Yours sincerely,

Helene Vanier
District chief, culture and community life
City of Saint-Bruno-de-Montarville
Three newspaper excerpt from St-Bruno explaining the work and mission of Jean Pronovost as well as the necessary steps for the realization of the project.