Gold's gym airbrush mural Montreal
Gold's gym is a 50 000 square feet specialized training space. They contacted Creations Jean Pronovost for the interior desing of their entrance and their training rooms like the pool and the boxing space. The corporate logo was also customized by the artist.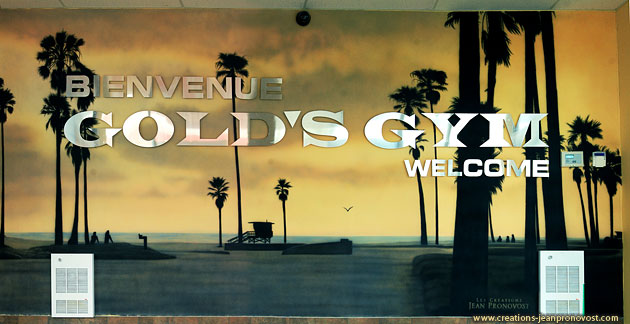 Here's a picture of Rosemere's Gold's Gym entrance. The huge mural on the wall was done using airbrush by Jean Pronovost on a 25×10 feet canvas. It was painted in his workshop and placed in the entrance of this gym counting more than 5000 members.
The thematic of the mural was a californian beach landspace where the company was born 50 years ago. The good vibes provided by physical activity is symbolized by this relaxing sunset and the paml trees in the foreground. The letterings was removed to set the mural and then added, which provide an interesting depth to the logo.
The creativity of this mural never stopped drawing interest and fascination since it was added to the entrance; an important point for the image of the company and our reputation.
We can appreciate the sky's vivid colors and its realism. The warm and relaxing shades are inviting for anyone going through the entrance. The palm trees are also very photorealistic. We can also see the lifeguard's cabin, painted in chiaroscuro just like the palmtrees, which adds perpsective to the mural.
The mission for this mural was to transform the pool in something less stern, and more inviting, colorful, full of life and deep. A coastal lanscape, a sunset and palm trees, reminding the californian's origins of Gold's Gym, were chosen. The mural was done directly on the concrete surface and is permanent thanks to a painting system effective for the outside as well as the inside.